by Rodney Campbell on Apr.12, 2016, under Life, Photography
Exmouth is one of the few areas in Australia that can boast the "Range to Reef" experience. Situated on the west side of the North West Cape is the Cape Range National Park; a spectacular place of rugged limestone ranges, breathtaking deep canyons and 50km of pristine beaches.
Cape Range Coast

Today we were heading down into Cape Range National Park – first stop the Milyering Discovery Centre.
The park covers more than 500 square kilometres and its northern boundary is just 40km from Exmouth.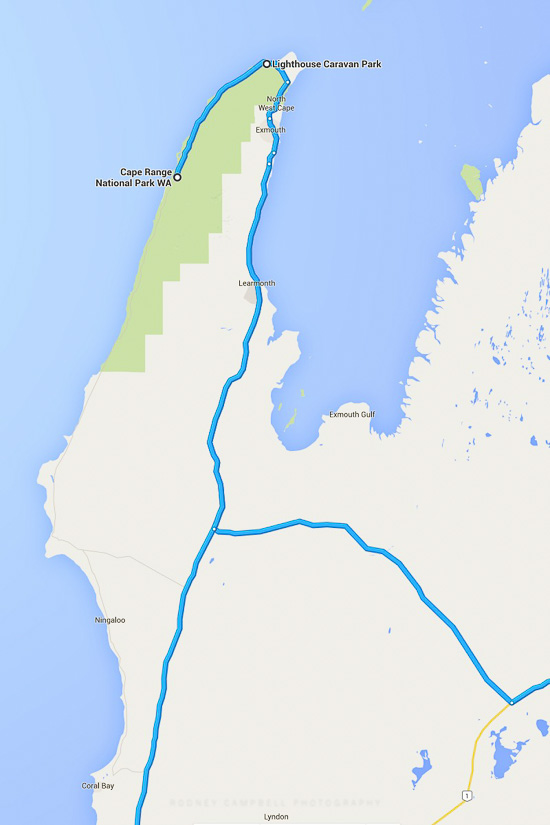 In ancient times the range was isolated as an island as rising sea levels inundated lower lying areas. As a result of this geographic isolation, there are some species of plants and animals that are endemic to the area.
There are in excess of 120 camping bays along the western shore of the Cape Range National Park, most of which are accessible via conventional vehicle. So we could see a lot of people camping as we made our way along the coastal road.
We stopped at a few spots to walk out and explore the coastline, it is rugged and beautiful.
Crashing

Note: These photographs (especially the wider shots) look much better when larger – so click any of the images below to see larger versions in an inline overlay slideshow gallery viewer.
Then we headed to Mandu Mandu Gorge. It's a nice 3km return walk along not so well marked trails into the gorge.
Mandu Mandu Gorge

This is a ten (10) frame stitched panorama of the gorge (shot handheld). My daughter is a tiny speck over on the far left side (you can only tell when zoomed to 100% :)).
Directional