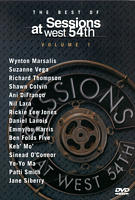 Review Equipment:

DVD Player:
Pioneer DV-717

Display:
Panasonic TX-79P100Z TAU 79cm 100Hz CRT (4:3 screen with 16:9 mode)

Receiver:
Denon AVR-3801

Calibration Tools:
NTSC Version of AVIA Guide to Home Theater & The Ultimate DVD Platinum & Chesky Record's - Gold Stereo and Surround Sound Setup Disc & Dick Smith SLP Meter

Front Speakers:
Tannoy Profile Plus 633 (Biwired)
Center Speaker:
Tannoy Profile Plus 621
Surround Speakers:
Tannoy Revolution R1
Surround Back Speakers:
Sony Bookshelf
Subwoofer:
M&K V75 MkII

Video Cables:
QED Qnect SVS s-video
Audio Cables:
QED Qnect DS & Qnect SS


Rating
Video
9
Audio
9
Extras
3
Overall
9
Video
General
P & S/Full Frame
Full Frame [NTSC]
Region(s)
0 (No Region Coding)
Wide/aspect ratio
No
Distributor
Columbia Music Video & Sony Music
16x9 Enhanced
No
Macrovision
?
Audio
Chapters
17
Audio Format(s)
English DD 5.1
English Linear PCM Stereo (48kHz/16Bit)
Running Time
78 min
Extras/Features
RSDL/Flipper
No/No
Trailer(s)
No
Classification
None
Commentary Tracks
No
Subtitles
English Subtitles & Lyrics
Other Extras

No
I'd bought this DVD on a whim, I was buying a couple of others and saw this one and decided to pick it up. I had heard exactly NONE of the songs on it and was only briefly aware of a couple of the artists who performed on the disc. In fact when I purchased it I saw that the first track was by Wynton Marsalis so was expecting it to be a Jazz disc. Boy was I surprised when I put this on - and I'm as pleased as can be - in fact this disc may become one of my favourites in my DVD collection.
Sessions at West 54th is public television's (US PBS) critically acclaimed weekly music series. This Best of Sessions at 54th West Volume 1 is a collection of stunning musical moments from the series' premiere season.
This is an eclectic collection of music with tracks by the following artists: Wynton Marsalis with the Lincoln Center Jazz Orchestra, Suzanne Vega, Richard Thompson, Shawn Colvin, Ani DiFranco, Nil Lara, Rickie Lee Jones, Daniel Lanois, Emmylou Harris, Ben Folds Five, Keb' Mo', Sinead O'Connor, Yo-Yo Ma, Patti Smith and Jane Siberry.

Video

These sessions were recorded in digital video and surround sound audio at the state-of-the-art Sony music studios in New York city. The quality of the video shows and is perhaps the best video I've seen on a disc of this genre (the music or concert DVD genre). The shadow detail is impressive and the images are always clear, crisp and sure. The sessions are recorded in a studio with the performers in a space in the center of the room and the (small) audience arrayed around this central area. The room is mostly darkened with lighting on the central area to hilight the performers although you can see the audience.

Audio

With most music DVD's I generally prefer the clarity of the audio that is generally presented on the PCM stereo track (when available). Again with this DVD I feel that the PCM stereo track has that little bit more oompfh, dynamic range and clarity but this is perhaps the best Dolby Digital 5.1 track I have ever heard on a music DVD.
Most music or concert DVD's try to place you in the audience with their surround audio track; but with Best of Sessions you are placed in the center of the stage area with the musicians arrayed around you. You feel like you are at the center of the sound stage and the sound field is nothing short of amazing - just listen to the incredible sounds of the classical guitar strumming in Keb' Mo's "Just Like You" to see what I mean.
This disc made the most use of the rear surrounds that I've ever heard on a music DVD and to amazing effect as well. The only downside to this is that it has shown the real disparity in quality in my rear surrounds when compared to the rest of the speakers on my system (especially my fronts). Oh well there is still the PCM stereo track! In fact the whole feel and sound of the Dolby Digital 5.1 track is quite different to the PCM stereo track and they are both amazing pieces of audio.

Extras

Again as with most music DVD's there aren't really any extras. At least this disc does include the lyrics as subtitles.

Overall

Well I have to say that I've been extremely impressed with this DVD. As you can probably tell from my collection of DVD's I am more of a collector of music DVD's rather than movie DVD's; I also primarily bought my home audio system with a focus on producing quality two channel stereo sound with the multi channel home theatre stuff as a secondary concern.
This amazing collection of contemporary and sometimes off beat music is well worth the price of admission. Even on my first listening there probably aren't any tracks I didn't enjoy and there are so many excellent performances I can't really highlight any over the others. My only concern - where's Volume 2?