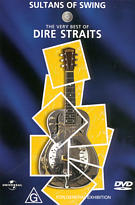 Review Equipment:

DVD Player:
Pioneer DV-717

Display:
Panasonic TX-79P100Z 79cm 100Hz CRT (4:3 screen with 16:9 mode)

Receiver:
Denon AVR-2700

Front Speakers:
Tannoy Profile Plus 633 (Biwired)
Center Speaker:
Tannoy Profile Plus 621
Rear Surrounds:
Sony Bookshelf
Subwoofer:
M&K V75 MkII

Video Cables:
QED Qnect SVS s-video
Audio Cables:
QED Qnect DS & Qnect SS

Rating
Video
5
Audio
6
Extras
4
Overall
5
Video
General
P & S/Full Frame
Full Frame
Region(s)
2/3/4/5/6 FONT>
Wide/aspect ratio
No
Distributor
Universal Pictures
16x9 Enhanced
No
Macrovision
Yes
Audio
Chapters
18
Audio Format(s)
English Linear PCM Stereo (48kHz/16Bit)
Running Time
90 min (actually 80 min)
Extras/Features
RSDL/Flipper
No/No
Trailer(s)
No
Classification
G
Commentary Tracks
No
Subtitles
Yes - Interview Only
Other Extras

Audio Interview with Mark Knopfler
Well those Sultans of Swing - Dire Straits are back with a DVD compilation of their best hits.

Video

The Video is pretty ordinary for much of the DVD. They have basically taken their various video clips for each of these songs and transferred them verbatim to DVD. At times (especially for the older material like Lady Writer, Romeo and Juliet, etc) I don't think the DVD is adding much value here as the source material is pretty suspect at times showing the usual flicks, dust and fluff on the print. The more recent footage though is generally acceptably clean although there are moments when it seems a little grainy and even blurry.

Those 70's haircuts and clothes are pretty scary though - teenagers (we) didn't actually go for all that stuff back then did they? Some of the early clips look pretty lame today.

The transfer rate ranges between about 4 to 8 MB/s throughout the disc.

Audio

The audio, although not great is fairly reasonable; I suspect that they may have actually redone the audio for the disc. But it just seems to lack the punch of some of their studio albums, the clarity and oompfh of bits like the drum solo at the start of "Money for Nothing" just weren't there.

The audio seems to get better as we progress through the disc (whether this is because the source material is generally newer or the people mastering the DVD got better at it I can't say).

Extras

The only extra is an audio interview (with subtitles) with Mark Knopfler, speaking about the band and each individual song-track.

Overall

Overall I was pretty disappointed with this disc, maybe I was expecting a bit more than a rehash of their (now lame looking) video clips and average audio. The material generally gets better as we go along and there are however a few live tracks (where the lips are actually in sync with the words :-)) including "Love over Gold", "Your Latest Trick" and "Local Hero".

Some of their more recent material fared a lot better in the transfer to DVD than their older material which I guess is to be expected.

If you are fan of Dire Straits (or even this era) then you will find a good mix of songs and some interesting footage but this isn't a disc to show off the awesome capabilities of DVD (even for the concert genre of DVD's).

Some things to look out for include; whoever produced the disc made the "Opening Credits" which last 47 seconds a Chapter track in itself so that the song listed as the first track on the cover is actually Chapter/Track 2 and so on; the Thunderbirds in Calling Elvis.