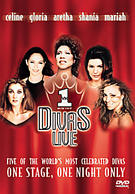 Review Equipment:

DVD Player:
Pioneer DV-717

Display:
Panasonic TX-79P100Z 79cm 100Hz CRT (4:3 screen with 16:9 mode)

Receiver:
Denon AVR-2700

Front Speakers:
Tannoy Profile Plus 633 (Biwired)
Center Speaker:
Tannoy Profile Plus 621
Rear Surrounds:
Sony Bookshelf
Subwoofer:
M&K V75 MkII

Video Cables:
QED Qnect SVS s-video
Audio Cables:
QED Qnect DS & Qnect SS

Rating
Video
8
Audio
7
Extras
3
Overall
7
Video
General
P & S/Full Frame
Full Frame [NTSC]
Region(s)
0 FONT>
Wide/aspect ratio
No
Distributor
Sony Music
16x9 Enhanced
No
Macrovision
?
Audio
Chapters
24
Audio Format(s)
English DD 5.1
English Linear PCM Stereo (48kHz/16Bit)
Running Time
80 min
Extras/Features
RSDL/Flipper
No/No
Trailer(s)
No
Classification
None
Commentary Tracks
No
Subtitles
Lyrics in English, Spanish & French
Other Extras

No
Where else can you find on one stage the likes of Celine Dion, Gloria Estefan, Aretha Franklin, Shania Twain, Mariah Carey and Carole King. In 1997 they all appeared on one stage, one night only, in support of VH1's "Save The Music" campaign. The idea - to provide support for music in public schools.

Video

For a disc of this genre (live concert material) the quality of the transfer is very good. The camera work is also impressive with cameras on long booms sweeping past the stage and performers as well as over the crowd. The clarity of the image is surprisingly good and is probably the best I've seen (for a concert disc).

As with many concert discs there is blue and purple lighting all over the place to really test out your equipment but the performers themselves were very clearly defined during the abundant close ups during the course of the concert.

I did notice a few potential video problems though. At a few points during the concert there seems to be a slight "glitch" in the video (the audio is unafected). The video image seems to momentarily hang and then jump - it only lasts a fraction of a second but it is noticable. I noticed this both on my home player and DVD-ROM drive.

The transfer rate sits on about 7 to 8 MB/s throughout the concert.

Audio

Like many concert discs the audio was perfectly acceptable but not outstanding and as with most of these discs I preferred the clarity and punch of the PCM Stereo track rather than the overmixed Dolby Digital track.

This particular disc made heavy use of the surrounds in the DD5.1 mix (mostly audience and delayed performance sounds (reflecting off the rear of the hall?)) which attempt to put you squarely in the audience. It does work and you are enveloped in the sound field but I think you loose a little of the dynamic range (especially the bass) with this mix.

Extras

Like most concert discs there aren't any extras to speak of other than having the lyrics to the songs available as subtitles - which is a nice feature to have and one that more music discs should take up.

Overall

Overall I've been pretty happy with this disc (Celine Dion's "My Heart Will Go On", Shania Twain's "You're Still The One" and all six Divas singing "A Natural Woman" are particular favorites of mine).