by Rodney Campbell on Nov.12, 2007, under Technology
I've been using a Telstra Next G Turbo Express Card in my MacBook Pro for a while now and whilst it worked fine under Mac OS X 10.4 Tiger, after performing the upgrade to Mac OS X 10.5 Leopard I discovered that it no longer appeared to work.
Now that I've been able to get the service to work under Leopard (with no extra drivers/software/hacks/etc required) I though I would document my steps for others.
From what I can tell the main reason that the card no longer appeared to work under Leopard is that it appears that Apple built in the functionality to deal with these types of modem cards into the core operating system (rather than using third party drivers and application software as we had to do under Tiger). This meant that the old method software no longer worked and to get things to work you had to configure things correctly using the built in services.
I am using the (orange Telstra Business) Option GT Express form of the Telstra Turbo Card (for the ExpressCard/34 slot in my MacBook Pro) however these instructions may well work for the other card formats (e.g. USB and PCMCIA/CardBus).
Update: I think there are various versions of the data card from multiple vendors – if you look on the back of the card you should hopefully be able to tell which vendor makes your card and adjust the following instructions accordingly. e.g. on the back of my card it says it is an "Option Model GE0202" – so I suspect it is a rebadged one of these: Option GlobeTrotter EXPRESS 7.2. Other people may have the Sierra Wireless AirCard – in which case you may want to try adjusting the following instructions (NB: I havn't tested this as I don't have the Sierra card) by:
Uninstalling the SierraWatcher software in the first step (if you have it installed).
I presume that in the Network System Preferences panel where you add the new connection that instead of the device appearing as "Globetrotter HSDPA Modem" it will appear as something like "AirCard".
Later on where I've selected "Option" in the vendor list for the connection select "Sierra" instead.
The first step you should do is uninstall the GlobeTrotter Connect software if you have that installed.
Now insert your Telstra Turbo Card and open up your Network System Preferences panel:
If an entry for your Turbo Card Modem doesn't appear in the list automatically you can add it by clicking the plus "+" symbol at the bottom left of the window and then select the modem hardware from the pull down Interface list: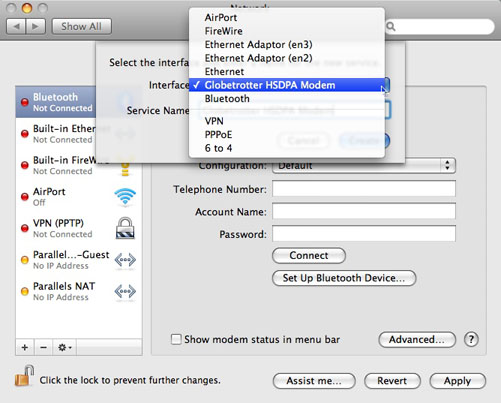 The Modem should appear in the column list on the left of the Network System Preferences pane: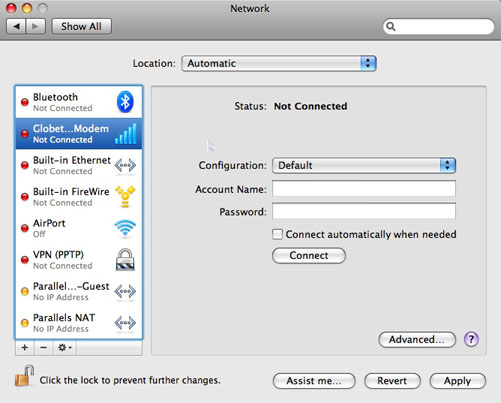 Now we are going to add a new Network Configuration to use this modem. Click the pull down Configuration menu and select "Add Configuration…":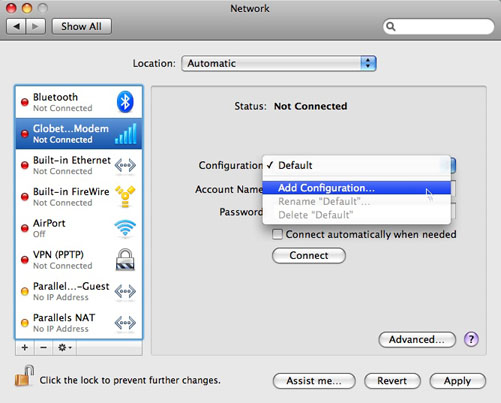 Give the Configuration a name (I've called mine "telstra.datapack") and click "Create":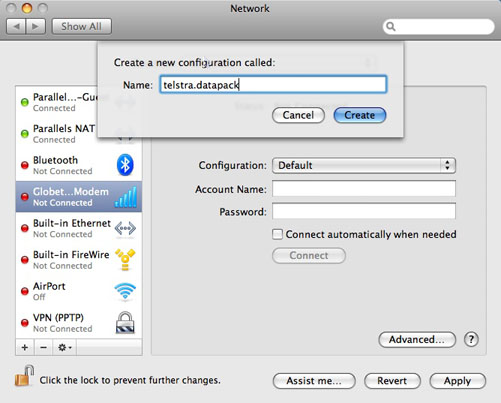 Now with this new Configuration selected click the "Advanced…" button in the bottom right and in the first Tab (WWAN) pull down the vendor list to one of the selections. In my case I have an "Option Express Card Turbo Modem" so I selected Option (I'm not sure it really matters what you select):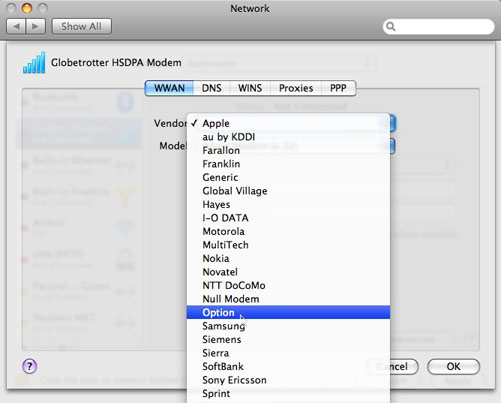 You can ignore the Model field for now – it appears to create and select the correct option by itself later. In the APN field you have to enter one of the four APN's (Access Point Names) that Telstra appears to use:
telstra.pcpack
telstra.datapack
telstra.internet
telstra.bigpond
These do not appear to be case sensitive and I'm not exactly sure what the differences are between them – I've tried all three and they appear to work. You should however select the APN that matches the particular plan you are on for your card (otherwise you are likely to be billed incorrectly). From what I can tell pcpack is for time based charging (and is older and no longer used?), datapack and internet are both for data volume charging (with internet being for the lower volume plans and datapack for the higher volume plans?) and finally bigpond is for the BigPond (Blue?) cards. Shown here is the telstra.datapack one. You do not need to enter anything into the Account Name and Password fields: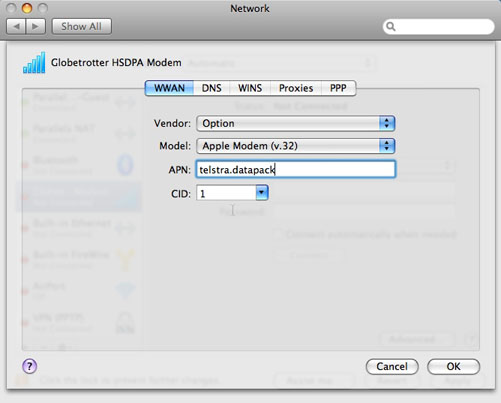 If you then click OK to save the settings and then go back into this dialog (clicking Advanced) you will notice that the Model field now says "GSM":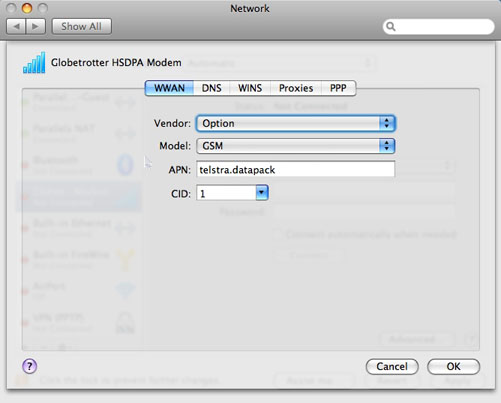 Update 2: If you are using a Telstra BigPond service (not the Telstra Business service) then you will also most likely need to complete one extra step. In the Network System Preferences pane there are entries for Account name and Password. For the Telstra Business plans these are left blank, however for the BigPond plans you will likely need to put in your Account name as username@bigpond.com (where username is your BigPond Username) and your BigPond password.
Now click Apply in the Network System Preferences pane and that is basically it.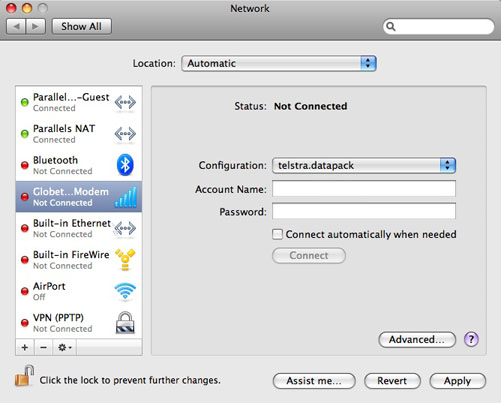 To now make use of your Next G Turbo Card just go to this preference panel and click "Connect" and after a few seconds you should be connected and the panel changes to like the following: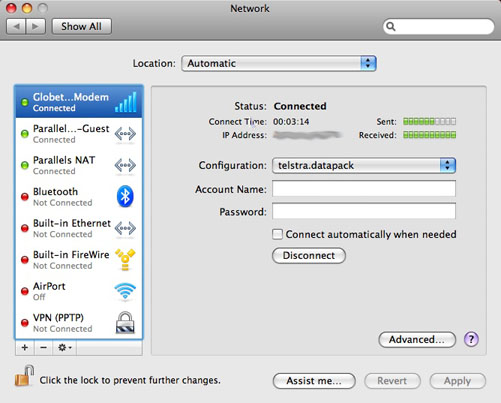 You may also get a new MenuBar icon appearing whenever you insert the card – which allows you to select to Connect and Disconnect right from the MenuBar: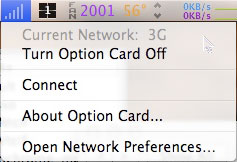 Hope this helps…